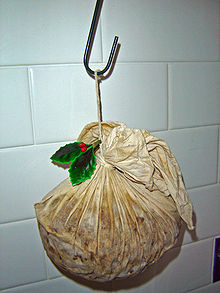 Christmas Pudding,  as we know it today, bears little resemblance to its chief ancestor known as 'pottage' –  a meat and vegetable concoction originating in Roman times. This was prepared in a large cauldron, the ingredients being slow cooked, with dried fruits, sugar and spices added. By the 15th century, 'Plum Pottage' was a sloppy mix of meat, vegetables and fruit served at the beginning of a meal.
By the 1830s the familiar 'cannonball' pudding shape of flour, fruits, suet, sugar and spices, all topped with holly, made a definite appearance, becoming more and more associated with Christmas. Fortunately for us – the savoury meat component had also been discarded by this time!
Prior to the 19th century, the English Christmas pudding was formed into a ball shape and boiled in a pudding cloth, however the new Victorian era fashion involved putting the batter into a basin and then steaming it, followed by unwrapping the pudding, placing it on a platter, and decorating the top with a sprig of holly.
Whichever way you prepare your Christmas Pudding,  The Bake and Brew Shop can supply you with a Pudding Steamer or the traditional calico pudding cloth.  If you purchase our Brandy Fruit Cake and Pudding Pack  online during December we will include a BONUS pudding cloth.  This is a great product – you simply add eggs & water to the cake mix and brandy-soaked fruit to make a rich Christmas Cake, or alternatively add breadcrumbs, eggs & water to produce a beautiful, rich, moist Christmas Pudding.